Bud's Nature Center
Edit
Bud is ready for Nature's Lore to arrive. Here is his house and garden on the edge of the Great Mushroom Forest.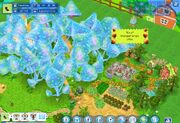 GoPutt World
Edit
This is GoPets award winning miniature golf course. There are 7 holes representing the 7 continents of the world. Stop by to play a round any time -- open 24 hours a day!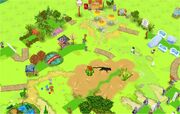 The Pounce Zone
Edit
This was my entry in the Japan's Girl's Day Screenshot Event hosted on the GoPets forum. I was very lucky to be selected as one of the ten winners and received a second Pet Hinadan and 100 Sticky Rices!
MMB posted this explaining what the event was about.
The Japanese Doll Festival (Hina-matsuri), or Girls' Day, is held on March 3, the third day of the third month. Platforms with a red hi-m?sen are used to display a set of ornamental dolls (hina-ningy?) representing the Emperor, Empress, attendants, and musicians in traditional court dress of the Heian period.
I decided that the musicians needed instruments so I turned my hinadan into a little rock band.