Disney World
Edit
You can visit anytime! You can go inside the Irish Pub if you would like. You could enter the magical Animal Kingdom! You could rest up in either the Snowy Castle or the Icy Inn. You could warm up by the fire place during the Winter, or you could sit in front of the nice cool Air Conditioner during the hot Summers. Remember to gather around the Christmas tree, maybe your pet might find a special little gift laying there. You could always visit the Pirates of the Carribean Restraunt, but do be warned a pirate might pop up and grab you! If you have ever wanted to see the city of London, have no fear! Enjoy a nice ride in the Double Decker Bus, where you can go through the Tower Bridge! Be mystified by the magical Giant Ghost Mushrooms! Enjoy soaring across the sky with the magic broom! Be spoked by the mystical graveyard! Enjoy the creatures that prance around Disney World! If you love chocolate and candy well this is the place for you! Enjoy our lovely chocolate fountains and Gumball Machines! Have a war with other pets with the war cannons! If you would like to just relax try our Spa located just outside the orange castle! If you would like to play a game alone, why this is still a great place for you to come! Enjoy throwing bow and arrows at the Royal Archery Range! My pets Snowflake, Fluffy, Alex, and Troy really enjoy this land! How about you come and share the magic!
WARNING:Disney World soars with dragons that breathe deep fire! No one knows when or where they came from. Just become weary of them, and don't touch them unless you have a force field! "whispers to Luke Skywalker: Use the force Luke! Use the force! Nooooo!" lol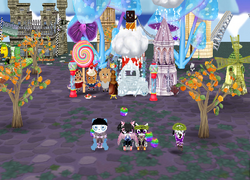 Winter Wonderland
Edit
Whether it's the cold winter months or the hot summer days....it's always winter here! Remember to either bring Skis or a Snow Board! You could enjoy both skiing the peaks or decide to snowboard them two! Wish you could throw snow at your friends well here you can! Have fun with snowball battles! You may just receive a kiss from under that Mistletoe. How cute your pets would look! If you need a cozy place to stay well this is the place! You have your pick through 8 houses! Or you could warm up in front of the fireplace in the cozy castle! Want to have a snowy day or night? Well here there is so much snow in the sky that it won't ever melt! Sit by the beautiful snow covered trees if you like. Remember to have those stockings on the walls and the milk and cookies out! Maybe Santa will stop by! Who knows?! hehe Just remember to be singing those cute little Christmas Carols! Go ahead and invite your friends. Everyone is welcomed here! Visit here and you will have a frosty time!!!